Roll Over Beethoven! WDP rocks with the Columbus, OH Symphony!
Hey, this was a fun night on July 17th, 2010 indeed! Another chance to perform our new WDP show with the Columbus, OH symphony. This was our third outing, having worked with the Grand Rapids, MI symphony before and the Palm Springs, CA Symphony. We did all the greats originally recorded with an orchestra like, "Raining in my Heart," "It Doesn't Matter Anymore," "True Love Ways," and the odd duck out "Moondreams." We did all the regular hits and included our arrangements/charts to "Hey, Buddy," and the medley we created for Buddy's apartment songs including "That's What they Say," "Learning the Game," "Crying, Waiting, Hoping," and "Peggy Sue Got Married." Fantastic to hear all those with live strings behind. The conductor Albert-George Schram was great and got thru our rehearsal the afternoon before the show in lightning speed and professionalism. In fact, the entire staff of the Columbus, OH symphony were great. They took great care of us and had us staying at the famous Blackwell hotel on the University of Ohio's grounds. You could see from the lobby where Woody Hayes used to coach his college football games. Sacred grounds, no doubt.
Here's a shot of of us rehearsing during the day.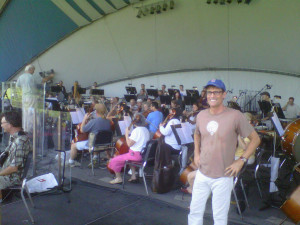 Here's a nice review the Columbus Dispatch did of the show:
REVIEW
Guest rockers revive spirits of the '50s
Sunday, July 18, 2010 02:59 AM
By Gary Budzak
FOR THE COLUMBUS DISPATCH
The three singers who perished on "the day the music died" were brought back to life, sort of, at a fun Columbus Symphony Picnic with the Pops concert last night on the lawn of Chemical Abstracts.
Buddy Holly, Ritchie Valens and The Big Bopper were impressively impersonated by John Mueller, Ray Anthony and J.P. Richardson Jr., respectively.
All three looked, dressed and, most importantly, sounded like the original singers, who died together in a plane crash while touring in Iowa on Feb. 3, 1959.
For those of us who know the music but never saw the original performers in concert, these re-enactors had the audience singing, clapping and dancing along as if they were the real thing.
Some people have a problem with any concert that doesn't feature the actual performers while they're in their prime, and that's their loss. My attitude is, if you can make me feel like this is how it might have sounded, or if a tribute is done with proper respect, then I'm good — as was this concert.
Since Holly had the lion's share of the hits among the trio, Mueller did most of the work, including introducing the others.
He had a sly sense of humor, calling the suspender-wearing maestro Albert-George Schram "hyphen" and saying he would take a three-hour intermission to dry his suit on the sticky night.
Mueller proved to be a master of the Holly catalog, and his shtick included playing the same kind of Fender Stratocaster that Holly did, and partying like it was still 1959.
Mueller played many of Holly's best songs, including Not Fade Away, Rave On, Everyday and Peggy Sue.
As for the other two, Richardson played up his father's humor on songs such as White Lightning and Running Bear, along with using a period telephone to tell his baby that's what he likes for Chantilly Lace.
Anthony showed off Valens' versatility ( Let's Go, Donna, Boney Maronie and La Bamba) that was on display in a too-brief career.
Although the singers had a five-man rock combo backing them, the symphony didn't sit on its hands. They opened each half with gusto — sweetening the rocking sounds and adding flourishes — and provided even more backing on the second half.
Holly might have been heading toward a more string-laden sound at the time of his death, so this "50's dance party" with the symphony made perfect sense.
-GARY BUDZAK
Well, we all had a fab time and are looking forward to our next presentation with a symphony, the next being the Philadelphia Symphony with guest conductor Peter Nero in March 2011. Oh, Boy!
Roll over Beethoven, we'll see ya' at the symphony, white gloves not necessary but dancin' shoes required!
Your Buddy,
John
Aug 2010