Rockin' with the Philly Pops and Peter Nero!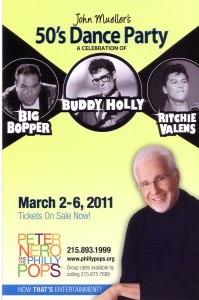 March 2-6, 2011 will not soon be forgotten! What a great time we had with Peter Nero and the Philly Pops. Always a treat for us to hear a full orchestra behind us and this was no exception. Peter had a great sense of humor on stage and even participated in one of our jokes that we do. Unexpected and quite hilarious. He is quite the pianist as well and did a great piano instrumental version of "Moon River."
Our rehearsals went off without a hitch and we were excited and ready to go. 4 shows in all with big crowds and an orchestra behind us. Fantastic. At a saturday matinee when we finished the show, the crowd called out for an encore…someone sitting dead center called out, "Hey, Buddy" (my tribute song to Buddy) so we did it which was fun. To my surprise, during our bows Peter Nero came up to me and said, "we should do that song every night." Thanks Mr Nero!
Here's a glimpse of day one of our rehearsals: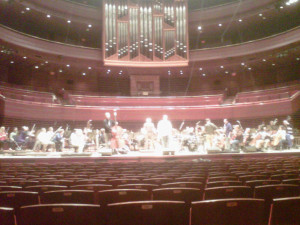 The Kimmel Center is where we performed at in downtown Philadelphia and this picture doesn't show but half of it, it's big!!
Here's the little area on stage we had for our set up: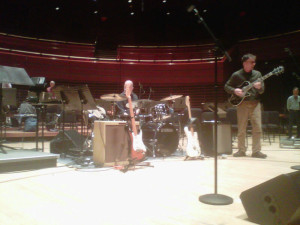 That's "Guitar" George wondering where the rest of the band is.
Here's our poster outside on the Kimmel Center wall: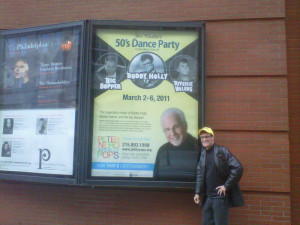 Side view of the Kimmel Center: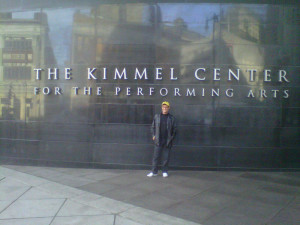 A shot of our dressing room door. Funny, they misspelled George's last name "Muller"…but wait…a George Muller was the stage manager. Maybe we hijacked his room!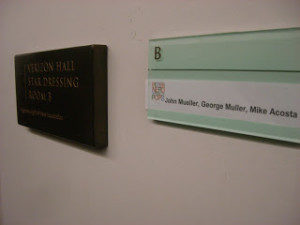 One of our complimentary tickets we received for family and friends
No trip to Philadelphia should be without these stops:
In short, Philadelphia is a great city and we had a great time there. Great food, great music, great people, what more could you ask for?
We can't wait to get back sometime and rock with the Philly Pops!
For more info on Winter Dance Party head to
http://www.winterdanceparty.com/
See ya on down the line,
John Mueller
March 2011